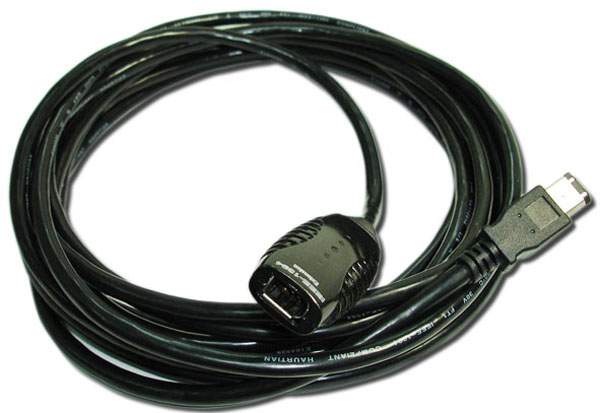 FIREWIRE 1394 Active Repeater Cable
6-Pin Male to 6-Pin Female 5 Meters Long Firewire Extension Cable

The Specifications for firewire (also known as i.Link and IEEE-1394)
You can use three of these in a row without supplying additional Power.
After three units an additional Powered hub can be installed and more
extensions can be added to a Max overall length of 50 Meters.
---
OS supported.
Although others should work fine.
Windows 98SE
Windows Mellinium
Windows 2000 Pro
Windows 2000 Server
Windows NT
Windows XP
Windows VISTA
Windows VISTA 64
Windows 7
Windows 8
Windows 10
Macintosh OS 8.6 and higher
---
Installation.
Install the Male 6-Pin End into a powered FIREWIRE Port.
Install additional Cables onto the Female side.
Important Caveat:
6Pin Firewire Ports on LAPTOPS are know to have very limited power output.
So these might require additional power added for the extension device to work correctly.
Other Part Numbers Representing Similar item.
Sewell Part #: SW-1101
Mfg Part #: FW-X-4.5M
GoldX #: GXF-2115,GX1394-215
SFCable.com #: 1608-SF-01